The "Plexus Black Box Time Capsules" is a conscious act of artists in the first person running ahead toward their own future. The "Plexus Black Box", conceived in 1989 in Rome, by metaphorically "freezing" Plexus and its activities within a "black box," for the need of its historical survival by being preserved for contemporary art history.
CHECK IN THE PLEXUS SITE SEARCH WEB SITE
YOUR NAME AND
YOUR ARTWORKS, PHOTOS, TEXTS, DOCUMENTATIONS OF YOUR HISTORICAL PARTICIPATION IN THE PLEXUS VOYAGE ARE CORRECTLY REPORTED.
All 847 original digital art works by all 384 artists who participated in the Plexus Metr'ART from 2004 to 2018, are now accessible in the Plexus Digital Gallery (THE GALLERY) www.plexusinternational.org ,where also all new 2019 digital art contributions for SOS Terra Action Now will be shortly posted. Search your name or others and you will find all your Plexus contributions that are listed. Check it if they need to be updated and post it on Plexus facebook..
Plexus International is known for its multi-arts compressionist art co-operas: What you feel and see is your own creation…We are called PLEXUS. I am labelling it: "Mytho-Compressionism". Here, we have compressed history, re-created mythology. Time speeds up and there is no time left for aesthetic distance between the artist as performer and the art observer. In these simultaneous Co-Operas we have destroyed this distance, and they in turn interact, creating a new operatic form…We are user friendly. Use us or lose us. We are all independent thinkers and dreamers collating our collective visions collaboratively. Please experience us wisely and with an open heart.This is open ART. (New York, 1986)
In the 1980s, a coalition of artists in New York City, Dakar, Sardinia, Rome and Amsterdam, formed Plexus International, which aimed to undermine the art world establishment. Plexus artists worked in a variety of media, including performance art, experimental music, theatre, poetry, visual arts, video makers and science —their goal was to remove the divide between art and the rest of life, and to make "art" accessible to all peoples. Over 38 years, Plexus International has realized and documented many global art events, Plexus Art Co-Operas, involving on some occasions hundreds of artists and scientists, coming from different parts of the world, fully financed by the participants themselves, without grants or art market support. In these art co-operas, up-today, more than 1000 artists from all over the world have participated .The ideas behind Plexus are alternative, community-based artists strategies for enhancing the advancement of art as a paramount resource for the well being of humankind.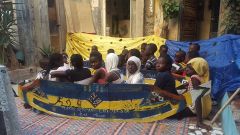 Plexus Atelier d'Art Kre' MBaye pour les Enfants de la Medina-Dakar
The Voyage Continues...
Sandro Dernini, s.dernini@tiscali.it /