DO YOU THINK THAT IT IS POSSIBLE TO EAT ANDY WARHOL IF YOU EAT A CAMPBELL'S SOUP CAN?
Sandro Dernini, on February 18, 1987, in New York, at Patrizia Anichini Gallery, performed "Do you think it possible to eat Andy Warhol if you eat a Campbell soup can?
It was staged as an inquiry for the course E.90.2605" Phenomenology and the Arts

," conducted by prof. David W. Ecker,

as part of his Ph.D. Program Research at the New York University Art and Art Education Department.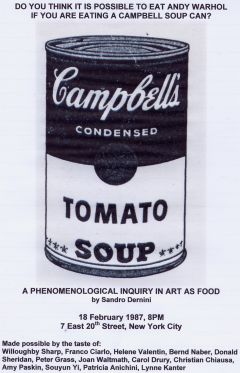 Willoughby Sharp, Joan Waltmath, Donald Sheridan, Peter Grass, Helen Valentin, Bernd Naber, Franco Ciarlo,
Lynne Kanter, Souyun Yi, Carol Drury, Amy Paskin, Christian Chiansa, Patrizia Anichini, were invited by Sandro Dernini to eat a Campbell soup can.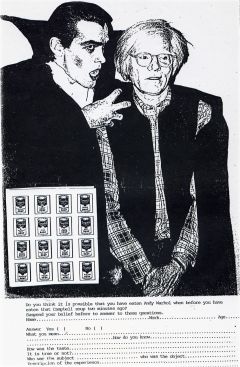 Then, they were invited to answer to a written questionary made by Sandro as part of his phenomenological inquiry:
Do you think it is possible that you have eaten Andy Warhol when before you have eaten that Campbell soup two minutes ago?
Suspend your belief before to answer to these questions: Answer- yes or nor?
What you mean?
How do you know?
How was the taste?
Is it true or not?
Who was the subject?
Who was the object?
Description of the experience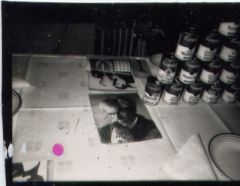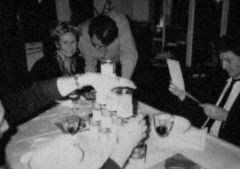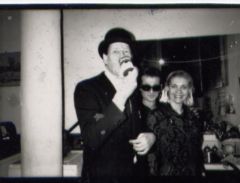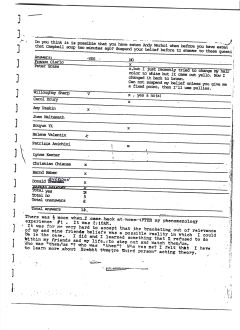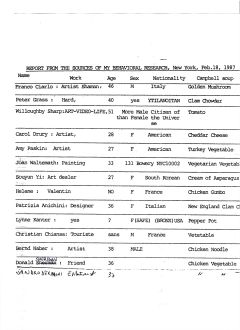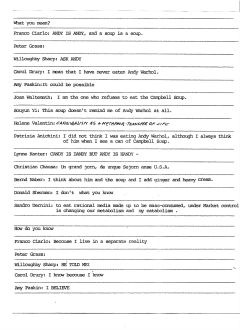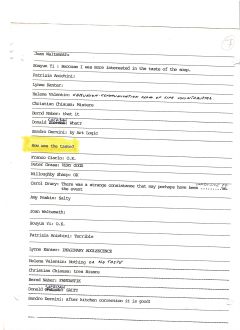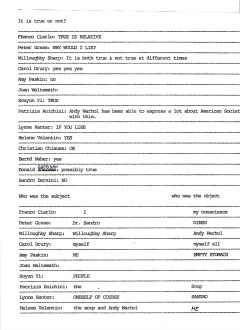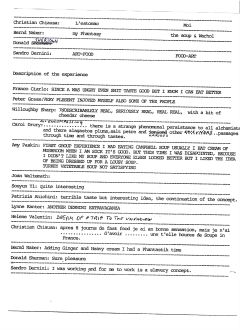 The performance was inspired by the upcoming symposium on "The Dematerialization of Art", organized on 24-26 February by the New York University International Center for Advanced Studies in Art (ICASA), in which Sandro Dernini as graduate assistant was part of the organization
.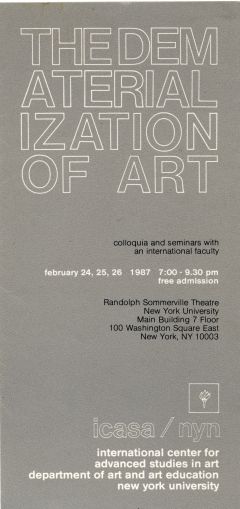 As napkins near plates, the brochures of the Dematerialization of Art Symposium where displaced on the table, in order to be read during the digestion.
From the replies to the questionnaires, it came out that majority of participants believed that they have "aten" Andy Warhol during their ritual performance.
Few days after Andy Warhol died on 22 February.

The ICASA Dematerialization of Art symposium opened on 24 February , featuring as panelists: Jean Baudrillard, Donald Kuspit, Nam June Paik, Vito Acconci, Judy Barry, Dennis Oppenheim, Billy Kluver, Nancy Holt, Paul Taylor, Bruce Breland, George Chaikin, Flor Bex, Rene Berger, Eika Billeter, Alan Bowness, Julie Lawson and Hervè Fischer.
Nam June Paik, by answering to a question from the audience, posed by Lenny Horowitz and Stephen Di Lauro as Plexus participants, about the feasibility that Andy Warhol was eaten during that performance conducted by Sandro Dernini, replied that it was possible that Warhol has been dematerialized in the intentional act of the artists of eating his commodity art symbol.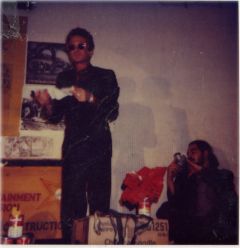 On 20 February 1988, on the anniversary of the 1987 Andy Warhol's Dematerialition performance, Sandro Dernini, organized the event "A Plexus Redefinition of an Andy Warhol Campbell Soup Can", at CUANDO Community Civic Cultural Center, in 9 Second Avenue, New York.
It was inspired by the symposium on "The Redefinition of Art in the Collision of Cultures in the Post-Modern World", organized in the same period by the ICASA International Center of Advanced Studies at New York University, where Sandro was still collaborating as a graduate assistant for his Ph.D. Program Research on "Eating Art"
In New York, on September 23, 1988, at the loft of Carmen Miraglia, in Soho, Sandro Dernini for his birthday presented as conceptual artwork his limited edition of 100 labels of Plexus Campboll Soup Can, conceived for his first anniversary of the Andy Warhol's dematerialization.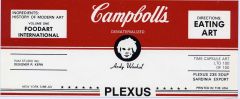 Serigraphed labels in paper, 9 cm x 21 cm
Plexus Campboll's Soup Cans, a limited edition 100/100
Conceptual artwork by Sandro Dernini, 1988
Intentionally, at the center of the red and white Campbell Soup Can label, there was apported a little fine difference, instead of Campbell's, it was written with the same character "Campboll's
."

Between the red and white stripes, there was a circular black frame within the white image of the head of Andy Warhol, on top of which, in the red stripe, was written "Dematerialized

," and under of which, in the white one, it was written "

Andy Warhol

." At the center in the bottom, it was written

"PLEXUS

."
On the top left side, there was a rectangular white frame with written "Ingredients: History of Modern Art, Volume One, FoodArt International."
Symmetrically at the other top right side, there was a rectangular white frame with written "Direction: Eating Art
."
Sandro Dernini commissioned and paid Maggie Reilly of Ram Studio to print the labels that were designed by Robert Kern.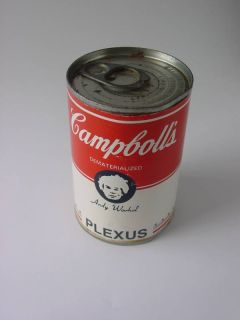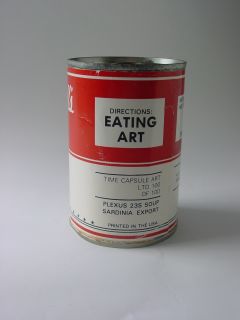 Limited edition 100/100, alluminium Cans 7 cm x 10 cm. 1988 - 2021


From 1988 to 2012 Sandro Dernini glued, as his artist's proof, some extra printed copies of the Plexus labels, on Campbell's soup alluminium cans, on which he previously removed their labels.

Then, since 2012, Sandro has created several installations with all 100 Plexus cans together as Art Market System Pyramids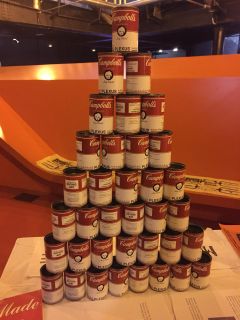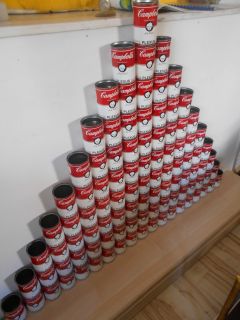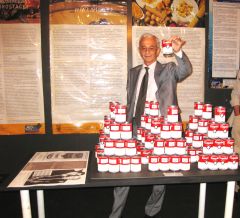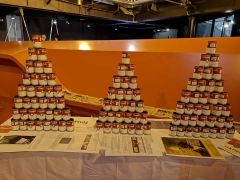 In December 2021, at the Plexus International Archives, in Rome, for the first time, Sandro Dernini numbered one per one, 100 on 100, the 100 Plexus Campboll's Soup cans as a limited edition.


Then, he glued at their bottom inside a QCode with all information related to his artististic process through which his Plexus Camboll's soup cans were made to avoid potential misunderstandings associated to the image and name of Andy Warhol reported on the Plexus labels.