PLEXUS METR'ART
UNICA OPERA STORICA MONUMENTALE D'ARTE CONTEMPORANEA ITINERANTE
costituita da 935 fotocopie

originali a colori, formato A3, che riproducono i contributi artistici digitali inviati,

dal 2004 al 2019
, da

469 artisti

di tutto il mondo che hanno viaggiato fisicamente

tra Dakar- Goree (Senegal) - Ballarat (Australia) – Lecce – Roma - Cagliari - Passo del Furlo (Italia) – New York - Barcellona - Palma de Gran Canaria - Rio de Janeiro - Gerusalemme – Cairns (Australia) - Assisi, dando vita ad un'unica opera storica monumentale d'arte contemporanea itinerante per attirare l'attenzione sulle crescenti forme di erosione nel pianeta, dall'erosione del

nostro patrimonio naturale e culturale, dei diritti umani, della libertà e della pace nel mondo, partendo simbolicamente nel 2004 dall'erosione marina della "Porta del Non Ritorno" della Casa degli Schiavi di Goree, Dakar, come simbolo dell'erosione della memoria storica dell'umanità.


Il Plexus Metr'Art è attualmente composto da due parti:
126 mq composta da 12 strisce di tessuto con i sei colori dell'arcobaleno, lunghe 7 m e larghe 1,50 m, su cui sono state incollate 708 fotocopie storiche originali inviate dal 2005 al 2019 da 373 artisti da molte parti del mondo.

70 m x 32 cm composta da 227 fotocopie storiche originali inviate nel 2004.
In occasione della Giornata della Terra 2023, 22 Aprile, alle ore 11, le 12 strisce del Metr'Art saranno allestite al Villaggio per la Terra, Villa Borghese, Roma, come una monumentale PLEXUS BANDIERA DELL'ARTE PER LA PACE PER FERMARE LA GUERRA E SALVARE LA TERRA.
TUTTI GLI ARTISTI CHE HANNO CONTRIBUITO AL METR'ART SONO INVITATI AD INSTALLARE INSIEME LA BANDIERA
I nomi degli artisti che hanno contribuito sono su https://www.plexusinternational.org/344/plexus_metr_art.html


Plexus Metr'Art currently is made by two parts:
126 square meters artwork consisting of 12 strips of fabric with the six colors of the rainbow, 7 m long and 1.50 m wide, on which 708 original historical photocopies of the Plexus Metr'ART were glued, sent from 2005 to 2019 by 373 artists from many parts of the world, which was exhibited for the first time at the Muraglione of the St. Francesco Church, in Assisi, Italy

70 meters x 32 cm, linear artwork, consisting of 227 original historical photocopies of the Plexus Metr'ART, joined together, sent in 2004 by 96 artists from many parts of the world.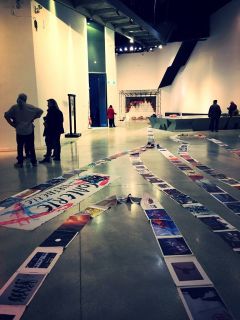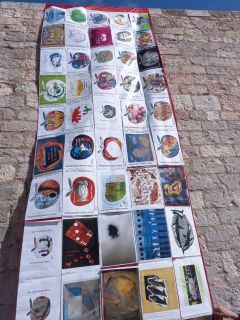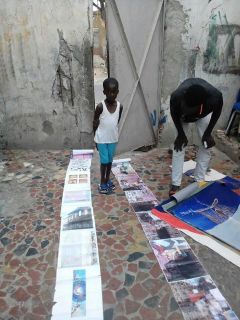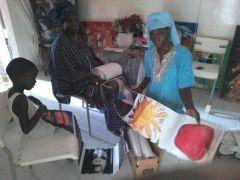 Sin dall'inizio delle sue attivita' negli anni 80', Plexus International ha utilizzato un linguaggio simbolico- metaforico per navigare attraverso i mari specialistici della conoscenza, attraverso categorizzazioni, classificazioni e frammentazioni, unendo artisti di differenti discipline, lingue e culture, portatori di diversi valori, per contribuire ad una maggiore consapevolezza delle nostre connessioni ed interdipendenze nel Pianeta Terra, come un unico interdipendente organismo vivente, nel rispetto di tutte le diversità
.


2004-2021 PLEXUS METR'ART VOYAGE
2004 - THE SEA EROSION AT THE "DOOR OF NO RETURN OF THE HOUSE OF THE SLAVES, AS A SYMBOL OF ALL HUMANKIND EROSIONS – EROSIONS AND RENAISSANCE SHOWS ACT I, House of Slaves, Goree Island, Dakar.
2004 - EROSION OF THE ABORIGINAL SACRED SITE OF THE MAROOTA PLATEAU – EROSIONS AND RENAISSANCE SHOWS ACT II, Ballarat, Australia
2005 - EATING ART – EROSION OF THE MEDITERRANEAN LANDSCAPE – EROSIONS AND RENAISSANCE SHOWS ACT III, Part 1, Academy of Fine Arts of Lecce, Italy.
2005 - EATING ART - EROSION HEALTHY MEDITERRANEAN LIFESTYLE – EROSIONS AND RENAISSANCE SHOWS ACT III, Part 2, Rector Hall of the Rome Sapienza University and National Academy of Dance, Rome
2005 - EROSION OF ALL HUMAN RIGHTS – EROSIONS AND RENAISSANCE SHOWS ACT IV, Part 1, Human Rights Day, 10 December, St. Mark Church-on-the-Bowery, New York
2006 - EATING ART - EROSION OF THE MEDITERRANEAN DIET HERITAGE – EROSIONS AND RENAISSANCE SHOWS ACT IV, Part 2, VI International Congress on the Mediterranean Diet, Barcelona,
2006 – FIRMA LA PACE/FERMA LA GUERRA, INTERNATIONAL WOMEN'S DAY – EROSIONS AND RENAISSANCE SHOWS ACT IV, Part 3, Vascello Theater, Rome
2006 - EROSION OF THE DOOR OF NO RETURN – EROSIONS AND RENAISSANCE SHOWS ACT V, Part 1, House of the Slaves in the Island of Goree, Dakar, Senegal
2006 – EROSION OF THE COGNITIVE CAPACITIES OF YOUNG GENERATIONS IN AFRICA, EROSIONS AND RENAISSANCE SHOWS ACT V, Part 2, Columbus House, Las Palmas de Gran Canaria, Spain
2006 - DESERTIFICATION IN THE MEDITERRANEAN REGION, – EROSIONS AND RENAISSANCE SHOWS ACT VI, on the Year of the Desertification, University of Sassari, Italy
2007 - EROSION OF BIODIVERSITY AND GENETIC RESOURCES, – EROSIONS AND RENAISSANCE SHOWS ACT VII, Rector Hall of the Tuscia University, Viterbo, Italy,
2008 – EROSION OF THE NATURAL AND CULTURAL HERITAGE OF HUMANKIND – EROSIONS AND RENAISSANCE SHOWS ACT VIII, House of the Slaves, Island of Goree, Dakar
2011 - EROSION OF OUR LIVING PLANET GAIA, 2012 RIO+20 WORLD CONFERENCE ON SUSTAINABLE DEVELOPMENT – EROSIONS AND RENAISSANCE SHOWS ACT IX, Centro Culturale Elsa Morante, Rome
2012 – PLEXUS METR'ART PREVIEW, Casa degli Artisti, Passo del Furlo, Marche, Italy,
2012 - EROSION OF THE CULTURAL AND NATURAL HERITAGE OF HUMANKIND, – EROSIONS AND RENAISSANCE SHOWS ACT X, Dak'Art Off Biennal, Village des Artists, Seni Mbaye Studio, Dakar
2012 - OPEN CALL RIO+20 MOTHER EARTH EROSION OF THE LIVING TRADITIONS IN THE PLANET, EROSIONS AND RENAISSANCE SHOWS Act X, PART 2° Quilombola Community of Sacopa, Rio de Janeiro
2012- EROSION OF MEDITERRANEAN DIET HERITAGE AMONG YOUNG GENERATIONS, EROSIONS AND RENAISSANCE SHOWS Act X, PART 3°, Hadassah Berry Studio, Jerusalem
2012 - BRING YOUR LIGHT FOR A CHANGE OF PERCEPTION AND AWARENESS, Human Rights Day, 10 December, Cb Loft, Rome
2013 - OPEN CALL IN ORDER TO SURVIVE - PERCEPTION AND AWARENESS: ALL HUMAN RIGHTS FOR ALL, dedicated to Nelson Mandela. Human Rights Day. 10 December, on the WEB
2014 - CARGO - ART & FOOD WITHOUT BORDERS - LOOKING FOR PARADISE, Human Rights Day, 10 December, Canopy Art Centre, Cairns, Queensland, Australia
2015 - CARGO-– ART & FOOD WITHOUT BORDERS, Human Rights Day, 10 December, Centro Culturale il Lazzaretto, Cagliari, Sardinia, Italy
2016 - PLEXUS OPEN CALL METR'ART - STOP INDIFFERENCE, Porto di Ripa Grande, Rome.
2016 - PLEXUS METR'ART - EMOTIONS DES ARTS, May, Dak'Art Off of the Biennale of Arts, Villages des Artists, Atelier Seni MBaye, Dakar
2016 - CARGO - ART & FOOD WITHOUT BORDERS –STOP INDIFFERENCE, Human Rights Day, 10 December, Biblioteca Comunale Villino Corsini, Villa Pamphili, Rome
2017 - THE RIGHT OF IMAGINATION. OPEN CALL METR'ART- BRING YOUR IMAGINATION, Human Rights Day, 10 December, on the WEB
2018 - LA FARFALLA: IL RITORNO DELL'ARTE NELLA COMUNITÀ, Human Rights Day, 10 December 10, MACRO-ASILO Museum of Contemporary Art of Rome.
2019 - ACTION NOW: SOS TERRA!! STOP INDIFFERENCE!! IN ORDER TO SURVIVE BRING YOUR SELF – BRING YOUR PLANET,Global Climate Week for Future, Circo Massimo, Rome.
2021 – IN ORDER TO SURVIVE – CAMBIO IN PERCEZIONE E CONSAPEVOLEZZA PLEXUS METR'ART MARCIA DELLA PACE PERUGIASSISI, Basilica di San Francesco, Assisi
ARTISTS METR'ART 2004-2019
Paivi Aala, Matilde Algamiz, Miguel Algarin, Fant Anaf, Larry Apendale, John Archer, Monica Argentino, Andi Arnovitz, Carlo Nieddu Arrica, Alessandro Arrigo, Stefano Asili, Alfredo Avagliano, Noemi Aversa, Alioune Badara dit Prof, Badou, Gyanella Basulto, Garick Beck, Desley Beechy, Claudia Bellocchi, Glauco Benigni, Maria Grazia Benvenuti, Nicholas Bergery, Maria Alejandra Besozzi, David Boyle, Hadassah Berry, Fabrizio Bertuccioli, Gian Luca Bianchini, Carmen Bianco, Alessandra Bisi, Beatrice Bolletta, Carlo Antonio Borghi, Cecilia Bossi, Graziano Bracale, John Brisbin, Marcello Brizzi, Willem Brugman, Luisa Brunetti, Geoff Buchan, Vito Buongiorno, Marco Caldarone, Naja Campanini, Matteo Campulla, Juna Cappilli, Carla Cantatore, Lamberto Caravita, Calogero Carbone, Biagio Carlomagno, Norma Carminati, Angela Carotenuto, Nico Carone, Lucia Carè e Martin Carè, Saveria Cassara, Pilar Castel, Elisabetta Castello, Marta Cavicchioni, Norberto Cenci, Alessia Cipolla, George Chaikin, Kathleen M. Chaikin, Graciela Ciampini, Felicity Griffin Clark, Joey Cocoa, Marie Laurie Colasson, Isbella Collodi, Serena Colucci, Sebastian Comelli, Gloria Concutelli, Fabio Congedo, Sara Contardi, Silvio Corteggiani, James Love Corwell IV, Gian Pietro Carrozza, Maurizio Cesarini, Guillaume Chappez, Daniela Chionna, Edward Claycomb, Carmela Corsitto, Michele Costantini, Alain Coulbaly, Paola Culiersi, Carlo Cusatelli, Michele D'Aloisio, Antonio Damarko, Gerald Damiano, Manya Donaque Lopez de Arbina, Allohou De Babacar, Ilaria De Blasi, Giorgio De Cesario, Giampaolo De Filippi, Ugo de Filippi, Eleonora del Brocco, Giovanna Dell'Anna, Angelica D'Angelo, Graciela D'Angelo, Marcello D'Angelo, Joeser Alvares da Silva, Joanne Davis, Gioia De Angelis, Martina De Angelis, Amedeo del Giudice, Marco Delli Veneri, Glaucia Coelho Demenjour, Corrado Demurtas, Sandro Dernini, Antonello Dessi, Alfa Diallo, Cristina di Bomarzo, Daniel Diaz, Stefania di Carlantonio, Stephen Di Lauro, Stefania Di Lino, Mamadou Dione, Bara Diokhane, Badara Diop dit Badau, Cheikh Diop, Djibi Diop, Morin Diop, Pierluigi Di Todaro, Monya Donaque, Jerome Dos Santos, Ibou Dos Santos, Atelier Dos Santos, Olympia Dotti, Graeme Dunstan, Susan Dutton, Renato Fascetti, Roberto Maria Federici, Gianni Felle, Margherita Fergnachino, Raffaele Ferro, Franco Ferrari, Marco Fioramanti, Giorgio Fiume, Roberta Filippi, Fabrizio Fontana, Maria Forleo, Dale Fort, Daniela Foschi, Bianca Fossa, David Fred, Joanee Freedom, Amir Hanza, Catherine Hassall, Susan Hawthorne, Karen Heap, Rahul Gajjar, Arianna Galeazzi, Roberto Gallaccio, Serena Galluzzi, Graziella Gangi, Giovanna Gandini, Carmela Garofalo, Filomena Garonna, Lassana Gassama, Juno Gemes, Fiorella Giachino, Marco Giacobbe, Gianfranco Gianfri, Emilio Gianni, John Gilbert, Claudio Giuli, Assane Gningue, Luis Gomis, Eva Rachele Grassi, Stefano Grassi Nazzari, Daniel Greenspan, Groupe de Recherche en Sculpture et Art Sonore (GreSAS), Manuel Guillen C., Tamsir Gueye, Gregorio Gumina, Lady Boddha Gwen, Angela Ibanez, Maria Ibanez, Valerio Immi, Niz Jabour, Imma Jimenez, Stacey Johnston, Julianna Joos, June Julien, Khail Edgar Jureidini, Susanna Kalk, Lynne Kanter, Ray Kelly, Graham King, Julius Klein, Nava Koresh, Steve Lalor, Trudi Latour, Hanne H7L Lauridsen, Angélica Leal, Yves Leduc, Paola Leonardi, Judy Levy, Pietro Liaci, Kerstin Lichblau, Arturo Lindsay, Monica Lisi, R Liz-N-Val, Fadel Lo, Giosue Loj, Louis Lopes, Massimo Lorusso, Maria Grazia Lunghi, Rossana Luisetti, Viviana Macias, Fraser MacKay, Anna Marceddu, Silvana Mariniello, Andrea Mameli, Federico Ciro Gaetani Manzi, Carmine Marcello, Ornella Marigliani, Luigia Gio Martelloni, Laura Martufi, Sandro Masala, Bruno Mascheroni, Domenico Masotti, Beatrice Mastrodonato, Cosetta Mastrogostino, Leda Mazzariello, Antonio Mazzotta, Luisa Mazzullo, Mayoro, Assane Mbaye, Kré Mbaye, Seni Mbaye, Jim McIlroy, Franco Meloni, Alessandra Menesini, Just Meijer, Piero Meogrossi, Francesco Mestria, Laura Grazia Miceli, Tina Milazzo, Chrissy Mildren, Alice Mills, Vera Milsztain, Joy Misseri, Nicolas Moll, Anna Montanaro, Fiamma Morelli, Maya Lopez Muro, Maurizio Muscettola, Moussa NDiaye, Adriano Necci, Paloma Negra, Brigitte Hoppstock-Neufahrn, Stefano Nuti, Michael O'Callaghan, Ilaria Occhigrossi, Valery Oisteanu, Melita Olmeda, Malena Olsson, Joe Ouakam, Raffaello Paiella, Sabrina Paiola, Carleton Palmer, Mario Paoletti, Loreto Papadia, Claudio Parentela, Ilaria Pascale, Rita Passeri, Michel Patrin, John Peace, Ilaria Pergolesi, Maurizio Perissinotto, Roberta Petrangeli, Carla Petrassi, Zach Pine, Nietta Pintus, Frank Pio, Roberto Pisello, Vittorio Pisu, Elisabetta Piu, Lucia Pizzani, Rolando Politi, Shaula Pollicita, Andrea Portas, Makhou Pouye, Melissa Proposch, Steve Proposch, Maria Lucia Pugliese, Titi Ray, Maggie Reilly, Reta Reinl, Roberto Rey, Anna Ricca, Rossella Ricci, Marialuisa Ricciuti, Josè Rodriguez, Silvina Romano, Mitch Ross, Barnaby Ruhe, Anna Saba, Maria Gabriella Sabbadini, Seynabou Sakho, Hamidou Sall dit Sall Amewa, Rocco Salvia, Franco Santini, Frame and Josh, Fabio Santi, Santithitho, Emanuela Santoro, Lillo Santoro, Gretta Sarfaty, Giulia Sargenti, Simona Sarti, Scarlett&Vincenti, Giancarlo Schiaffini, Arleen Schloss, Anna Maria Scocozza, Secka, Lisa Sem, Angelo Ermanno Senatore, Silvia Senna, Micaela Serino, Monica Sesana, Dalit Sharon, Frank Shifreen, Little Shiva, Camilla Silioti, Ginevra Silioti, Donato Simone, Janyce Soares de Oliveira, Alberto Soi, Elena Solatxi, Paola Spagnolo, Diana Sperduti, Ediberta Stefani, Filippo Stoppa, Salomon Tourè, Leopoldo Cirillo Taiani, Ernesto Stalkern, Antonio Tamburini, Caroline Taylor, Vittorio Terracina, Terry, Laura Testa, Ariela Testa, Enza Teti, Piero Tevini, Alite Thijsen, Thea Tini, Alison Thomson, Alejandro Thornton, Corinne MC Tomas, Rita Tondo, Salomon Tourè, Enrico Tubertini, Imma Tuosto, Errica Tramcere, Babacar Sadikh Traorè, Ian Trask, Susan Truss, Nadia Turella, Pasquale Urso, Vincenzo Urso, Shane Van den Acker, Michelle van Gerrevink, Stuart Vaskass, Eve Vaterlaus, Sonia Vecchio So.Ve., Roberta Venanzi, Carlo Venturi, Adamo Verena, Filomena Begert Vezza, Gabriella Viana, Adam Victor, Roberto Wolf Villani, Gregorio Giovanni Villella, Giorgio Viva, Archivo Vivo, Carlo Volpicella, Massimo Zanasi, Laura Zilocchi, Paulo and Fernando Zornitta, Joan Waltemath, Stella Maris Velasco, Anna Boschi Cermasi, Derya Avci, Rosa Gravino, Marcela Makrucz, Marisa Olmedo, Meri Castelli, Janys Oliveira, Roxana Rignola Art, Mauricio C. Rosa, Guroga, Monica Sanchez, Carmen Fryda Buschiazzo, Manuel Ghijem, Tchello d'Barros, Natalia Maidana, Andrea Torchetti, Rosana Fisichella, Rachelline Centomo, Jesus Valentin Olguin Balcazar, Sylvia Medina Art, Fernando Calhau, Silvia Maidana, Silvina Martinez, Hilda Paz, Marysia Raposo, Lautaro Fernandez, Claudia Garcia, Edith Lozano, Hugo Pontes, Alfonso Caccacale, Fernando Calhau, Hilda Paz,Ignacio Navarro Cortez, Monika Vergara, Victor Valqui Vidal, Castelli Meri, Daniel Acosta, Eni Ilis, Marysia Raposo, Airlines-guroga Airlines, Serse Luigetti, Adrian Lis, Joao Bosco Bosco, Edith Lozano, Anibal Nazzaro, Walter Brovia, Cinzia Farina, Anuska Teruel, Alexander Limarev, Marisa Olmedo, Anna Maria Scocozza, Ana Taberna Arezzo, Oneyda Ecobar, Leonor Arnao, Letlj Navarro, Mabel Carral, Arianna Pennella, Camilla Rosso, Susanne Schumacher, Maria Angelica Carter Morales, Chioart Rocio Cancion, Angelica Maria Leal Rodriguez, Claudia Pezzani, Jose Alcade Ccsa-cdmx Museografia, Maurizio Follin, Magdalia Avila II, Nestor Rossi, Za'Za Jardim, Juan Lopez de Ael, Mabi Col, Fabiola Barna, Rosalie Gancie, Susan Gold, Benjamin Barrias-Museo Infantil, Paola Cardenas-Museo Infantil, Hilda Uruena, Josephine Hazen,Nelly Caro, Mirta Caccaro, Clemente Padin.