Dedicated to Nelson Mandela
PLEXUS INTERNATIONAL OPEN CALL
International Human Rights Day, December 10, 2013
IN ORDER TO SURVIVE
PERCEPTION AND AWARENESS
ALL HUMAN RIGHTS FOR ALL

On the occasion of the 65th Anniversary of the Universal Declaration of Human Rights, by reaffirming the art as a human right for all, against any forms of slavery, ancient and contemporary, Plexus International sends out the Open Call,

dedicated to Nelson Mandela,
In Order to Survive

Perception/Awareness:

All Human Rights for All !!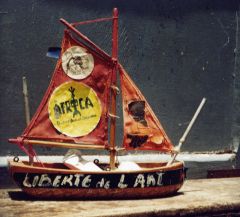 In the sign of the need to expand the perception of the world in which we live and in the consciousness of the everyday acting, behaviors and lifestyle choices, Plexus International invites all artists "to come on board" in the first person in the journey undertaken in a world increasingly inequitable and where the art has become a commodity, and as such a mean of control.
Long Walk to Freedom
Nelson Mandela