The METR'ART is collective multi-perspective artwork, made by digital art contributions reproduced in A3 photocopy format and united together into a long rollmeter.
Until now 223 artists from all over the world have contributed, with about 600 digital works to the construction of the METR'ART, now over 300 meters long, as co-art collective work, to measure symbolically all forms of erosion in the planet, starting from the erosion of the Door of No Return The House of the Slaves of Goree, Dakar: from the erosion of the natural and cultural heritage of humanity to the erosion of human rights freedom and peace in the world. All digital works received in 2012 are exhibited in Plexus International Virtual Gallery 2012 and all other art contributions received from 2004 to 2011 in the gallery of the travel notebooks section of the Ark of Well Being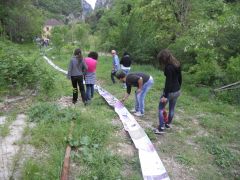 Il Metr'Art è un opera collettiva in progress, realizzata con il contributo di oltre 250 artisti da tutto il mondo, che hanno inviato per email le loro opere che sono state quindi riprodotte in fotocopie formato A3 ed unite insieme per dare vita ad lungo metraggio per misurare metaforimente le diverse forme di erosione crescenti nel pianeta vivente.
Le opere digitali ricevute nel 2012 sono esposte nella Plexus Virtual Gallery 2012 e tutte quelle ricevute dal 2004 al 2011 nella galleria del Diario di Bordo dell'Ark of Well Being.